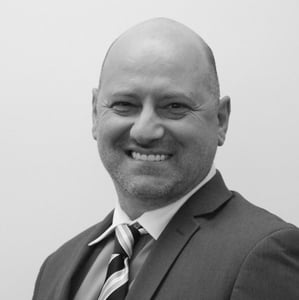 Robert Renzulli has always enjoyed taking things apart and putting them back together.
"As a kid, I used to go home and take apart computers. I reinstalled the memory, hard drive, and other components to understand it. Then, I started installing software for friends and family."
Originally from Haledon, New Jersey, Renzulli grew up with an electrician as a father, and when working with him, he was much more interested in how things lit up rather than the fact that they just did.
He had a business focus throughout high school and began taking classes in technology. At an early age, he was working at a cosmetic customer service company when the HR department asked him to install some software on their company computers. It was then that he took the first steps in climbing tech's corporate ladder. He started at the help desk, and over many years and for multiple companies, he has fulfilled many different positions including being a level 1 and level 2 technician, a project manager, a team leader, an operations manager and now, the vice president of technical services.
"I've been called the air traffic controller of our company because anything technical that goes in or out of the office, all technicians report it to me. Ticketing, follow-up, project management—I make sure it gets done in a timely fashion. I make sure customer service is up to par. I deal with clients, improvements and things on the financial end. I'll still answer calls to help out if I need to, but these are the reasons I like working for Tabush—it's different every day."
There is a certain dedication and reliability that Renzulli credits for his work ethic: Martial Arts. During his time as a teenager, he admired Bruce Lee and decided to take classes within martial arts. Just three years later, he was a black belt and teaching his own classes. "It was a combination of mind and body strength, endurance, patience and dedication," said Renzulli. "And those are also qualities that make me a good manager. I will never say no to getting the job done. You can't get frustrated, you just have to have a calm demeanor and execution."
Now, Renzulli spends his free time at home in New Jersey with his family—his fiancé and two stepchildren. As he prepares for a wedding on the beach, he volunteers with many community organizations, charities, and outreach programs including New Jersey Cares, the Wounded Warriors Project, and Imagine alongside his family. They help out with their local church community and serve at the soup kitchen at least once a month. "It makes me a better person, a better human being. They're humbling experiences and it helps to put things into perspective."