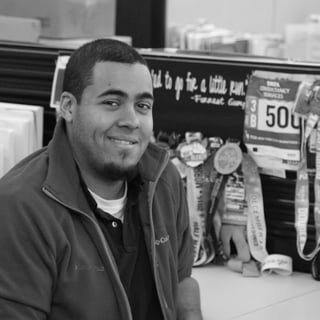 When Ariel Acosta is not in the office, you can catch him running away from it. Literally.
"It's about 8-10 miles from the office to my house, and sometimes if I need to do a long run, I run home from work," he said, while on the topic of running being his newfound hobby. Hobby turned way of life, apparently, as he recently completed his first marathon in January in one of his favorite cities, New Orleans.
"I'm running the Providence Marathon in May, and the NYC Marathon in November," he said, commenting on his future plans by foot. "I'm averaging about 25-50 miles a week."
Coming from a runner who credits his most brutal run being 22 miles in 17 degree weather, Acosta offers a piece of advice to those aspiring a long run in this bitter New York season: "Layer up and keep moving." He also runs to funny podcasts, such as The Joe Rogan Experience, instead of music to deter his mind from the idea of how much time has passed with each song.
And as a native New Yorker to the neighborhood of Washington Heights, Ariel Acosta has continued to stay true—and close—to his roots.
From childhood to adulthood, Acosta has had a tech-geared mind. "I was kind of a nerd growing up," he said. "I was in the math club and the chess club and always had my hands in computers." While gushing about his childhood, he also talked about a grant his once-middle school, Mott Hall Middle School, was awarded. Microsoft dubbed Mott Hall to be the "test school" for laptops, and this pioneering project, Acosta decided at a young age, was very cool.
"I remember using a typewriter and carrying the Encyclopedia Britannica and that big blue Macmillan dictionary to school," he said. "I always thought computers were cool, because back then, they weren't really accessible." But luckily for him, at Mott Hall, they were. After Bill Gates paid the class a visit, they asked questions, and then got answers from one of the biggest tech gurus of our time. That, perhaps, was there the light was sparked.
Complementing his young tech interests were the males of his family. "My dad was a field technician for a radiology company," he mentioned, while adding that once when he was about 9 years old, his father came home with a brand new laptop, and he was hooked ever since. His brother then taught him his hobby: how to break and fix computers. Around the age of 16, they together figured out which parts and components were needed, then would order them, build the computers from scratch, and then sell them.
After graduating from NYC College of Technology in Brooklyn with a degree in hospitality, he had odds-and-ends jobs, and throughout them all, he was still working with computers. He managed a small computer store, and also worked on its tech end. At night, he was a DJ, and had grueling nighttime hours, working until around 4 a.m. He transferred his efforts and energy to a small local technology firm, and after that, worked at Circuit City in the technology department for about 6 months. Soon after, he wound up back at a small firm, and then Tabush.
Using previous experience, Acosta entered as a higher-level technician and started as a network engineer. "Here," he explained, "We do a little bit of everything. And I like that." He spoke of helping other technicians, being active within customer service, working on both the server and networking ends, and having a sense of family within the workplace. "Mahmut, the chief technology officer, is like my big brother," he said.
When he's not working, or running to or from it, you can bet Acosta is spending time with his wife. Recently wed in Tarrytown in April of 2013, Marina and Ariel enjoy cooking (his mom was a public school's head cook for 20 years!), dining out (at his favorite restaurant BLT Steak in White Plains), and traveling together.
"I'm on a plane at least 5-6 times a year," he said, while adding that him and his wife were set to return, once again, to New Orleans in April. They also frequently visit Marina's parents in Sarasota, Fla. While Ariel runs, Marina prefers short jaunts, and offers her care to Ariel for when an injury occurs. "She's a nurse practitioner, so if anything happens, she's the one to take care of me," he said.
When Ariel heads back to work, he leaves some advice for those looking to enter the tech world: "When it comes to getting in, it's always different. I always feel weird recommending how to do it, because everyone's path is different. For me, sitting in a classroom dealing in theory bores me, so just get to work. Don't be afraid to break stuff and figure out how to fix it."