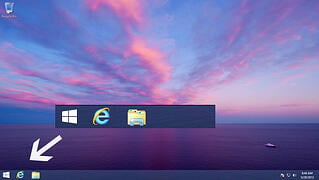 Businesses can rejoice! The START button is back with Windows 8.1.
Are you one of the many Windows users who've been missing the "Start" button? Well, on October 18th a tweaked version of Microsoft's Windows operating system will restore the beloved "Start" button, and update other features. A full retail version of Windows 8.1 will be available and will be offered as a free download to all Windows 8 users. Windows 8.1 will be available worldwide, starting in New Zealand at midnight on October 18th.
Microsoft's Brandon Leblanc understands the eagerness of consumers, and explained that: "Windows 8.1 brings many improvements in areas like personalization, Internet Explorer 11, search which is powered by Bing, built-in apps including a few new ones, an improved Windows Store experience, and cloud connectivity with SkyDrive (and much more) that people will enjoy."
On June 26th, a public preview of Windows 8.1 was revealed. During that time, Microsoft said it had sold over 100 million licenses for Windows 8. The decision to alter the operating system was made after listening to customer reviews and suggestions. Along with the beloved "Start" button, Windows 8.1 will include smaller Live Tiles and advanced search integration.
Windows 8, launched last October, is known for its extreme desktop design changes. Their goal was to create a system that could be used on mobile touch-screen devices, as well as traditional PCs.
A report by the Washington Post added that with the launch of the tweaked version of Windows 8.1, the company would also be discontinuing all support for Windows XP on April 8, 2014. Businesses that are still using the operating system must transition to Windows 7, Windows 8 or Windows Vista.
Do you have questions about Windows 8.1 or if your business should upgrade? Leave a comment below or contact us.