Tabush Named to 2015 Managed Service Provider 500 List by CRN
Tabush Group Recognized for Exemplary Approach to Delivery of Managed IT Services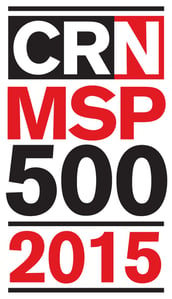 NEW YORK, NY (February 17, 2015) - Tabush Group, a leading managed IT service provider for small to midsize businesses in the New York City tri-state area, today announced it has earned recognition on The Channel Company's 2015 CRN Managed Service Provider (MSP) 500 list as one of the MSP Pioneer 250. This annual list distinguishes the top technology providers and consultants in North America whose leading approach to managed services enables their customers to improve operational efficiencies, elicit greater value from their IT investments, and successfully leverage technology to achieve greater competitive advantage.
In today's world of outsourced IT, the expertise of MSPs has become increasingly important to organizations. The plethora of choices in terms of consumption and procurement of technology can become overwhelming. To help facilitate companies' selection and adoption of managed services and providers, CRN, the leading media outlet for technology vendors and solution providers who serve end-user customers, has identified the top 500 MSPs.
This year, CRN's industry‐focused directory highlights the Top 500 MSPs in three categories: 100 Hosting Providers who are experienced in providing mainly off-premise, or cloud-based, services; 150 Elite Service Providers who are large data center-focused solution providers with a strong mix of on-premise professional services as well as off-premise services; and 250 Progressive Service Providers who have a business model heavily weighted toward managed services geared toward the small and midsize business market.
Coverage of the MSP500 will be featured in the February 2015 issue of CRN and online at www.CRN.com.
Supporting Quotes
"The allure of Everything-as-a-Service to organizations is largely rooted in the appeal of predictable operational expenses, cost-cutting, resource allocation and access to on-demand/pay-as-you-go technology. Therein lies a great need for the expertise of managed service providers," said Robert Faletra, CEO, The Channel Company. "We congratulate the managed service providers who have engineered, or re-engineered, their businesses to deliver the services their customers rely on for future growth and ongoing success."
---
About Tabush Group
Tabush Group is a leading provider of virtual workspace, private cloud, and managed IT services that specializes in technology solutions for small to midsize businesses in the fields of law, real estate, construction, investment management, and professional services. Our mission is to help organizations succeed through our passion and experience. Building upon that experience, Tabush has developed an all-in-one cloud solution called Boxtop™, which delivers all of a company's IT needs as a simple, secure, and scalable service, allowing small business owners to focus on growing their companies. Boxtop™ includes virtual desktops, cloud infrastructure, storage, backups, security, and unlimited support. Founded in 2000, Tabush is a privately held company headquartered in New York City, with data centers located in New York, Ohio, and Washington State. Additional information about Tabush and its services can be found at www.tabush.com, and additional information about Boxtop™ can be found at www.goboxtop.com.