Tabush Named to CRN's 2014 Managed Service Provider 500 List
Tabush Group Recognized for Forward-Thinking Approach to Meeting the Needs of Today's IT Channel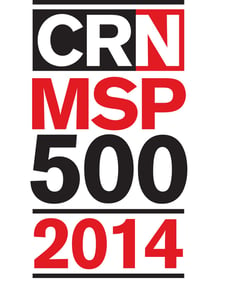 NEW YORK, NY (February 18, 2014) - Tabush Group, a leading managed IT service provider for small to midsize businesses in the New York City tri-state area, today announced it has been named to CRN's Managed Service Provider (MSP) 500 list as one of the MSP Pioneer 250. The annual list recognizes the top technology providers and consultants in North America whose cutting-edge approach to managed services puts end-user customers in the best position to improve efficiencies, cut costs and speed time to market for their own products and services.
In today's world of computing power, end users are barraged by options. CRN, the leading media outlet for vendors and solution providers attempting to understand sales and service channels, selected the top MSPs in order to bring clarity to the decision-making process.
This year, CRN's MSP500 is broken down into three groups highlighting the MSP Elite 150, who are large data center-focused solution providers with a strong mix of on-premise professional services as well as off-premise services; the MSP Pioneer 250, who have a business model heavily weighted toward managed services focused on the small- and midsize-business market; and the MSP Hosting Service Provider 100, who own and operate their own data centers, providing a wide array of subscription-based outsourced services.
Supporting Quotes
"The managed services landscape continues to evolve rapidly as organizations are discovering they can impact both bottom-line and top-line growth," said Robert Faletra, CEO, The Channel Company. "When it comes to strong managed services and off-premise solutions, these companies are the industry's proven leaders, showing just how they can change the game for their customers and we congratulate them on their success."
---
About Tabush Group
Tabush Group is a leading provider of virtual workspace, private cloud, and managed IT services that specializes in technology solutions for small to midsize businesses in the fields of law, real estate, construction, investment management, and professional services. Our mission is to help organizations succeed through our passion and experience. Building upon that experience, Tabush has developed an all-in-one cloud solution called Boxtop™, which delivers all of a company's IT needs as a simple, secure, and scalable service, allowing small business owners to focus on growing their companies. Boxtop™ includes virtual desktops, cloud infrastructure, storage, backups, security, and unlimited support. Founded in 2000, Tabush is a privately held company headquartered in New York City, with data centers located in New York, Ohio, and Washington State. Additional information about Tabush and its services can be found at www.tabush.com, and additional information about Boxtop™ can be found at www.goboxtop.com.