Tabush Named to Top 501 Managed IT Service Companies Globally
Providing the best IT services for business across New York City is the focus of the Tabush team. Tabush remains committed to serving business, CPA firms and construction companies across the city, providing IT support and services. Tabush listed with peers on prestigious list of the top 501 IT services companies globally.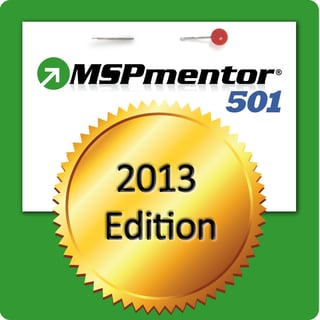 NEW YORK, NY (February 18, 2013) - Nine Lives Media and MSPmentor, among the top technology industry's media sources, annually rank the top IT service firms globally.
The MSPmentor 501 report is based on data from MSPmentor's global online survey conducted October-December 2012. The MSPmentor 501 report recognizes top managed IT service providers based on a range of metrics, including annual managed services revenue growth, revenue per employee, managed services offered and customer devices managed.
Tabush appears on the MSPmentor 501 list at 206. The Tabush team of New York City based IT service professionals are 100% committed to providing IT support and services to certified professional accountants, non-profit organizations, construction companies and business across the five boroughs. Many organizations across New York City trust Tabush as their outsourced IT service provider.
Supporting Quotes
"This is a huge honor for our entire team at Tabush," said Morris Tabush, president and CEO. "Over the past year we committed to help CPA firms, non-profits, construction firms and other NYC area business with expert IT services following our Tabush Way of providing services."
"MSPmentor congratulates Tabush on this honor," said Amy Katz, president of Nine Lives Media, a division of Penton Media. "Qualifying for our MSPmentor 501 Global Edition puts Tabush in rare company."
---
About Tabush Group
Tabush Group is a leading provider of virtual workspace, private cloud, and managed IT services that specializes in technology solutions for small to midsize businesses in the fields of law, real estate, construction, investment management, and professional services. Our mission is to help organizations succeed through our passion and experience. Building upon that experience, Tabush has developed an all-in-one cloud solution called Boxtop™, which delivers all of a company's IT needs as a simple, secure, and scalable service, allowing small business owners to focus on growing their companies. Boxtop™ includes virtual desktops, cloud infrastructure, storage, backups, security, and unlimited support. Founded in 2000, Tabush is a privately held company headquartered in New York City, with data centers located in New York, Ohio, and Washington State. Additional information about Tabush and its services can be found at www.tabush.com, and additional information about Boxtop™ can be found at www.goboxtop.com.