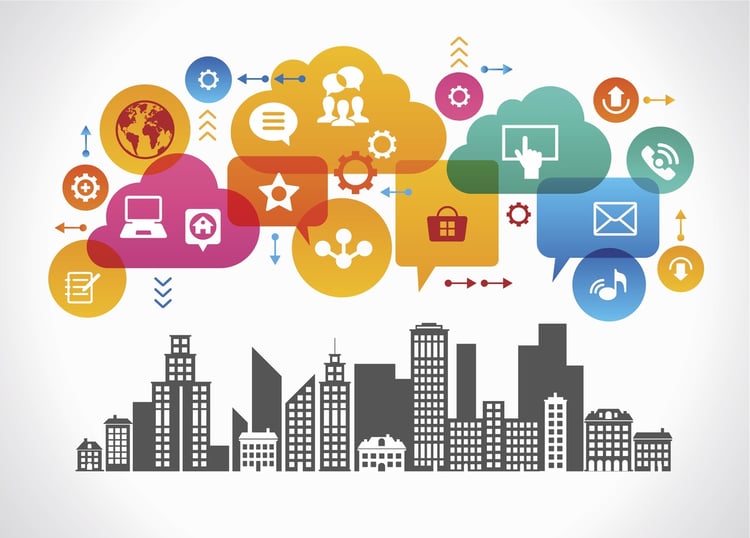 Just about every business today uses the cloud.
Back in 2006, companies large and small had all of their IT systems running on servers and software that lived within the company's walls. Fast forward just ten years to 2016, and it's very hard to find a business that does not use the cloud for some part of their IT.
By definition, cloud means an IT system or application that lives in a remote datacenter and is managed by a third party provider, as opposed to residing on a server in the customer's location.
When it's done right, the cloud works brilliantly for businesses. Cloud systems are reliable, secure, and efficient. They easily scale with growing companies. Most companies we surveyed are using a cloud email service, such as Office 365 or Google Apps, both of which are great systems (although significantly different in many ways). But there is so much more than email that small businesses can and should be doing in the cloud.
Cloud-Based CRM Software
Customer Relationships Management (CRM) software is used by companies large and small to manage their customer and prospect databases. There are dozens of amazing CRM systems which exist in the cloud. While some of these systems are very simple and entry-level, others are extremely deep and require consultants to implement. Cloud-based CRM software programs are accessible from any computer or smartphone without requiring special remote access or VPN software, which is valuable because sales and customer service reps these days frequently work remotely, and this allows them full access to the information they need wherever they may be.
Cloud-Based File Sharing
In the past, in order for a group of people to access a shared directory of files, you needed a file server. Today, there are dozens of cloud-based file sharing systems which not only replace many of the functions of a traditional file server), but also give you the ability to access your files on your mobile device, and share certain files or folders with groups outside of your company. There are still a few things that cloud-based servers can't do, including hosting certain types of shared applications like QuickBooks.
Cloud-Based Backup & Data Recovery
Backup and disaster recovery is something too often overlooked by companies – they spend time and money on the systems that solve a problem, but not until it's too late do they make the corresponding investment to protect those systems. Gone are the days of backing up to tapes or external hard drives and carrying those home in a briefcase. Cloud services now exist to automatically back up your server and desktop data to a secure remote datacenter, and restore it to anywhere. Some of the higher-end services not only backup your files, but also provide cloud business continuity, meaning that in the event of a major issue (such as fire or flood) they can revive your entire server or network in their cloud, so your employees can work remotely.
Cloud-Based IT Security
All of our devices (computers and smartphones) are constantly connected to the Internet. We use them more and more, storing sensitive and critical data on them, and the unfortunate reality of this is that it makes them all the more appealing for hackers. IT security is more important now than it ever was, and there are great cloud options to protect your business on many levels, including securing your email, your internet connection, and your desktops and servers.
Cloud-Based Phone Systems
Every business needs a phone system. In the past, these phone systems lived in a closet or basement and relied on a bunch of lines from the local telephone company. Today, cloud-based phones are rapidly replacing the old PBX. These cloud systems offer small businesses the features that in the past were only available to large corporations (such as ACD, off-premise extensions, voicemail to email, and complex call routing), coupled with the reliability of the cloud, at a fraction of the cost. (If call quality is important to your company, see this post on VoIP calls and the Internet).
Cloud-Based Desktop Computers / Desktop-as-a-Service
The desktop computer, by its very name, lives on or underneath every employee's desk. It is the "hub" that brings together their applications, data, files, and preferences, all into one workspace. Today, it's possible to move your entire desktop off the desk and into the cloud (called Desktop-as-a-Service, or DaaS), giving the end user the same experience they're used to, but with the added security, reliability, and ease of access of a cloud service. To business managers and IT staff, this means no more replacing PC's, dealing with downtime, or trying to repair failed PCs and recover their data.
So there you have it – 6 things that your business should move to the cloud in 2017, if it hasn't already. Of course, some of these would co-exist with each other (such as desktops and voice), while certain ones may negate the need for others (such as file sharing and backup). And since not every service is right for every company, consult with your trusted IT professional to find the best fit for your business.
If you'd like to learn more about how to tackle IT challenges by moving to the cloud, watch my pre-recorded webinar on "Running Your Business in the Cloud" - gain access HERE.