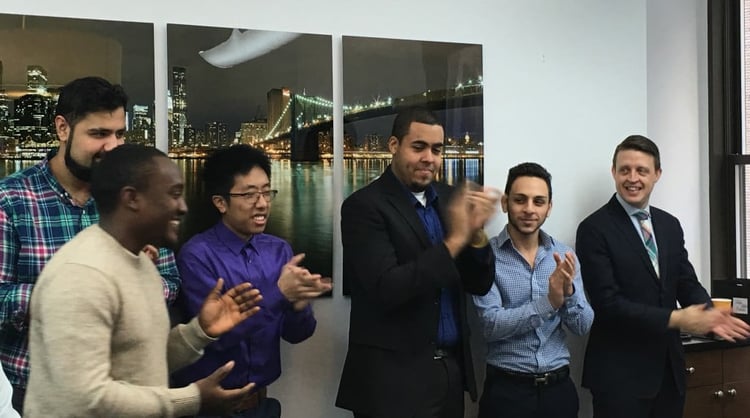 Last month, we held our annual awards breakfast. As a small business of 25 employees, it's a much anticipated day, where we all come together to honor team members who have achieved milestones with the company, as well as those who have exemplified our values. Over the past year, we added 6 new employees, so it was also an opportunity to all together welcome them to the Tabush Group family.
At this year's awards breakfast, three team members were recognized for reaching 10-year milestones, two received awards for outstanding performance, and two received honorable mentions. Additionally, several promotions were announced.
Valerie Tabush (Finance and HR Manager), M'ten Halsey (Project Manager), and Darragh Fitzpatrick,(Executive Vice President), were all recognized for over 10 years of service with the company. Each started out in a different role and through their dedication and commitment, grew through their years with Tabush Group.
Jerry Lo (Field Service Engineer) was recognized with a "Crystal Achievement Award" for his outstanding client service skills and exemplary growth over the past year. Elliot Tabush (Boxtop Product Manager) was also recognized with a "Crystal Achievement Award" for his R&D efforts over the years which have made a significant impact on the company and our clients, and his outstanding efforts in helping us launch our Boxtop cloud workspace platform. Rudy Bunguri (Desktop Support Engineer) and Eugene Grutman (NOC Services) were both recognized with honorable mentions for their amazing dedication and commitment to the company and our mission.
This awards breakfast has become part of the Tabush Group tradition, giving our leadership team an opportunity to formally congratulate and thank the staff that comes in and gives their all, every day, to delivering outstanding service to our clients. We're proud of our company culture that recognizes commitment, passion, and excellence.