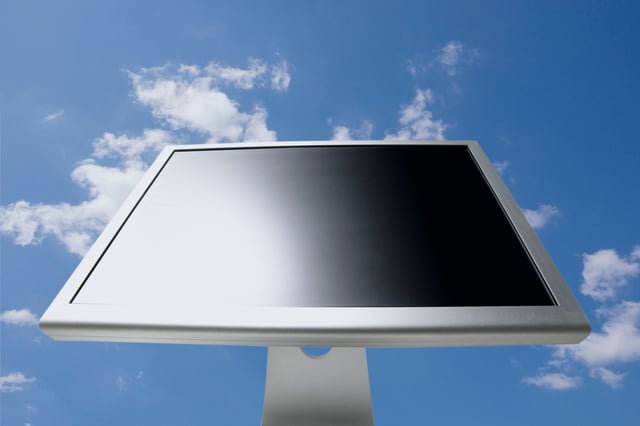 We often have discussions with our clients about moving to the cloud. As time moves on and technology continues to progress, moving to the cloud has moved from becoming a question of "if" to a question of "when." Cloud makes more and more sense each day.
Intuit's QuickBooks is one of the most common applications we're asked about moving to the cloud. It's a very popular accounting program for small businesses, and, as companies are operating beyond the physical walls of their office, they find a strong need to provide remote access to their QuickBooks data, either to outside accountants or bookkeeping services, or to employees. While Intuit does have a web-based product called "QuickBooks Online", most businesses and CPAs prefer to stick with QuickBooks Desktop for the functionality, interface, and flexibility it offers.
Moving QuickBooks Pro or Premiere (the desktop versions) to the cloud has been possible for quite some time, and, like most cloud services, brings with it the advantages of being able to access it from anywhere, having robust security and backups, and not having to purchase or maintain a QuickBooks server (if you are in a multi-user environment). There are many companies offering this, using back-end technologies such as Terminal Server or Citrix to deliver the application. Today, however, there is another alternative which should be considered.
Moving QuickBooks to the cloud is great, but also comes with some limitations. Printing is the most common, as the technologies used to deliver cloud applications (typically Terminal Server or Citrix) can present issues printing to certain printers.
But what about the rest of your business applications? Typically, when only one or two of a company's applications live in the cloud (or even worse, different applications live in separate, disconnected clouds), the rest of the applications, the ones that live on the desktops (such as Microsoft Word, Excel, and Outlook; maybe a sales or proposal system, a shared drive for file storage, communication tools, etc.) become disconnected from the cloud applications. Doing things like importing/exporting data, using plug-ins or add-ons (which, in the QuickBooks world, there are thousands of), or doing any type of custom integrations becomes more difficult, if not impossible. Why? Because the desktop PC has always acted as the amalgamation point of everything for the end user (the applications, data, security, icons, and more), but all of a sudden not everything lives on that desktop – they live in different places.
For example, in order for QuickBooks to export reports to Microsoft Excel spreadsheets, Excel must live in the same "space" as QuickBooks, so if your QuickBooks lives in a third party provider's cloud, you will also need a copy of Excel there (which will be a separate installation from the Excel you have local on your PC). Or, you may use an add-on to connect QuickBooks to another database or application, or for payment processing, or for another custom function which saves man-hours. If your QuickBooks is hosted, the provider must allow and support these add-ons in order for them to work.
A new approach:
Rather than moving only QuickBooks to the cloud, many companies (ourselves included) have moved the entire desktop to the cloud. Literally, the "hard drive" or tower that sits on or under your desk goes away, and goes to the cloud. Everything on that desktop, from programs such as Office, QuickBooks, Evernote, and Skype, to the shared drives, to the icons.
With this approach, everything becomes instantly accessible from anywhere, but still functions like it's all on the same desktop, because it is. You are no longer limited by each cloud provider's rules and systems, can choose to change or upgrade applications at your own pace, and can run a combination of cloud, desktop, and hybrid applications all in the same environment.
Best of all, once all of your desktops are in the cloud (which means that naturally your servers are as well), you no longer have to worry about the costs of maintaining your own IT systems. Things like backups, remote access, disaster recovery, business continuity, hardware upgrades and replacement, and local IT support become a thing of the past, as everything is maintained by the cloud provider and resides in data centers built with more security and redundancy than most businesses would or could do on their own.
When it comes to cost, moving only QuickBooks to the cloud typically costs around $60 per user per month, but that is a completely new cost – it doesn't eliminate or reduce any of a company's existing IT costs. Moving desktops to the cloud, on the other hand, while typically more than $60 per month, eliminates the many costs involved with backups, remote access, disaster recovery, business continuity, hardware upgrades and replacement, and local IT support.
Several years ago, it may have made sense to move only some data, systems, or programs to the cloud. Today, companies are moving their files, their phones, and even their desktops to the cloud. If you've been thinking about moving an application such as QuickBooks (or any Windows-based program, for that matter) to the cloud, it may be worth your time to consider moving your desktops instead. You may be surprised at the results, cost savings, efficiencies, convenience, and problems it eliminates.
And this is why we developed Boxtop – our all-in-one cloud IT solution for small to midsize businesses.
You may also be interested in: