At Tabush Group, we express our values that are highlighted as our core values, both internally and around our community. We practice integrity to unite our company with diverse causes and encourage our team to act as role models. We exercise care towards our employees, clients, and the world around us.
With this in mind, our team worked together to provide sustenance to groups that are sometimes overlooked. We understand that the efforts made within our office can create a ripple effect beyond our reach.
Canned Food Drive - Sarah Sutton Food Pantry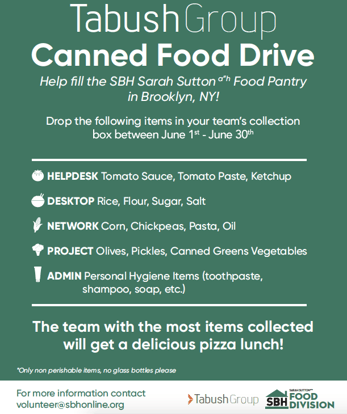 In June 2019, Tabush Group held a canned food drive in partnership with the SBH Sarah Sutton Food Division, which feeds hundreds of families each week. Our donations benefited the Sarah Sutton Food Pantry, which is the proud home of one of the largest kosher food pantries in Brooklyn.
Our team stocked up on an assortment of canned goods and hygiene items, ensuring that no categories were left behind.
By the end of our food drive, we had gathered a plethora of necessities in our collection boxes, and in return, took away an even greater understanding of our community.
At Tabush Group, we remain inspired by our potential impact through giving back and will continue to support organizations in the spirit of teamwork. With integrity at our very core, Tabush Group gives back to foster an inclusive and philanthropic environment.