As a leading provider of solutions in the technological landscape, we are proud of our continuous efforts to innovate. Our team strives to improve who we are, what we do, and how we enact change. We are not only empowered to take risks but are encouraged to act and grow in partnership with one another.
With innovation at our very core, we champion the development of our company through the growth of our employees. At Tabush Group, employees hone skills necessary to excel in their careers and collaborate with other departments to gain a wider depth of knowledge.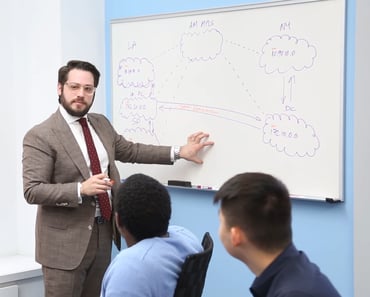 Professional development acts as a source of continuous education in the workplace and consists of informal learning opportunities, workshops, and conferences. To help employees reach their career goals, we utilize both internal and external resources to allow our team to learn from a variety of coaches and provide mentorship opportunities at all stages of employment.
Keeping career growth in mind, Tabush Group holds weekly sessions centered on a variety of skills that employees deem necessary. We train our staff accordingly and evaluate the skills mastered during each course. Moreover, Tabush Group ensures that knowledge gaps are bridged by guiding our team to fulfill items that may be missing from their unique skill sets.
In addition to weekly workshops, Tabush Group invited an external business coach, Rachel Cooke, in 2019 to present two workshops to our team on best practices in communications. Communication, as Rachel noted, is more than the interaction itself: it is preparation, engagement, and follow-up centered on empathy, confidence, and accountability. Our team learned components of active listening and mastered key elements of communication.
At Tabush Group, we refuse to stop short at career development. Our drive to innovate is integral to our success. We entice our employees to grow within the company and invite them to take on responsibilities beyond their role. Further, we encourage all members of our team to lead individual training's and work alongside one another to develop their talents. We look forward to our future initiatives and foster the growth of our employees.