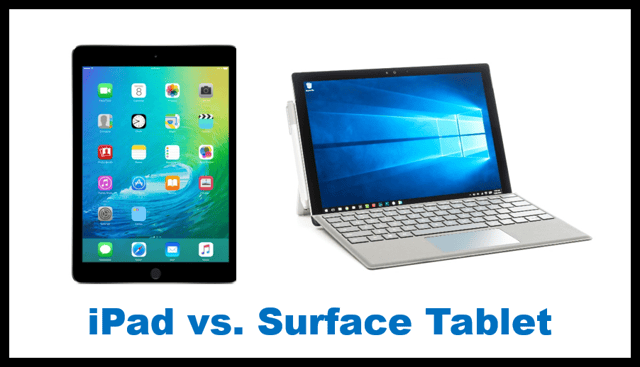 Even though I'm the founder of a successful IT and cloud computing company, to my family and friends I'm still just "a computer guy," who they call on for help with everything from iPhones to printers to DVR's. Sometimes I feel like a seasoned brain surgeon who still gets calls from people asking him whether they should take Tylenol or Advil for a headache! Alas, I'm still fascinated by technology and love what I do, and thus enjoy answering these questions and being the resident tech geek for my friends and family.
One of the most common questions I get is "I'm buying a new tablet – should I get an iPad, iPad Pro, or a Surface?"
In short, both the iPad (Air, mini, and Pro) and Surface (Pro 3, Pro 4, etc.) are great tablets and fine for most users. Both have 8 to 10 hours of battery life, LTE/4G models, super clear and bright screens, and are easy to use. But which is better depends on what you plan to use it for.
Accessories & Charging
There are many more accessories available for the iPads (cases, keyboards, etc.) than the Surface. Furthermore, if you're an iPhone user, your iPad uses the same lightning cable to charge as your iPhone (and if you're like me, you already have a dozen of them in the home, office, and car), while the Surface uses its own charger/cable.
Operating System
One clear difference is the operating system. The Surface models run Windows 10 – the same full-featured operating system that comes pre-installed on most computers these days (except Macs), whereas the iPad runs iOS, the same operating system as iPhones, but not a true desktop OS like you'd find on a MacBook or iMac. Windows 10 can run just about any Windows application that you may use on your home or office PC, whereas iOS runs apps designed specifically for tablets (many desktop and cloud applications have their iOS equivalents). If you use a Mac at work, and your files live in apple's iCloud ecosystem, then stop reading here and get an iPad – it will work seamlessly with everything you already use. If, however, you use Windows most of the day, then read on.
Look & Feel
If you travel often, and need to be fully productive from anywhere, you'll probably find yourself happier with a Surface, as it truly is a full-featured PC that looks like a tablet. If you can do something on a desktop computer, you can do it from your surface in just about the same way, unlike the iPad which may be able to do most of what you need, but somewhat differently and with minor limitations.
Internet / Web Browsing
This is a toss-up. Both the iPad and Surface come with browsers, and both can run Chrome (my favorite browser).
Email
For basic reading/replying of messages, or if you use Google apps, the iPad wins – its built-in mail app, and the Gmail app (for google apps users) are both great for routine email use. If, however, you are a Microsoft Outlook user and you need more serious email functionality such as viewing team members' calendars for scheduling, managing emails in multiple sub-folders, sorting/saving attachments, and more, then Outlook on the Surface will prove more capable (yes, there is an Outlook app for iOS, but it doesn't come close to its Windows counterpart).
Business Documents
If you need to access, create, and edit business documents such as Word, Excel, PowerPoint, and PDFs from your tablet, there's nothing as good as the full featured Microsoft Office and Adobe Acrobat on Windows, so the Surface wins here. The iPad is fine for viewing Word, PDF, and simple Excel files, but when it comes to creating and editing, it's limited.
Photo Editing & Management
iOS has some great and very inexpensive photo editing apps, and has apps that can sync your photos to most cloud services (not just iCloud), but, depending on which service you use, you may find some Windows apps more functional.
Watching Movies
iPad is the clear winner here. You can very easily download movies or seasons of TV shows before a flight for offline viewing using either iTunes (paid), or for free from Netflix or Amazon Prime Video (with a subscription, of course). Windows, however, limits you to iTunes only – as of this writing both Netflix and Amazon only support streaming (not downloading) on Windows devices, and most in-flight Wi-Fi doesn't allow for streaming.
Business Applications
If your business uses cloud-based applications (such as Salesforce or NetSuite), you can connect to those apps from either tablet, so it's a tie. If your business runs traditional applications (such as QuickBooks Pro) on in-house PC's, then you're limited to LogMeIn or GoToMyPC, which, while not great options, are the same on both iPad and Surface.
If your company uses a Desktop-as-a-service platform, such as Boxtop, then you can connect to your desktop from any mobile device (there are apps for both iOS and Windows, as well as Android), often at much faster speeds than traditional remote access solutions.
Security
And, lastly, but definitely most important, there's the issue of security – a huge concern these days, especially when you're traveling and connecting to public Wi-Fi hotspots in hotels, coffee shops, etc. There have been many stories of hackers using public Wi-Fi connections to tap into devices. While Windows devices have improved security tremendously in the past five years, they're still vulnerable to hundreds of types of malware and viruses. iOS, on the other hand, is a closed operating system which has much fewer threats and risks than Windows does. If you don't want to worry about viruses and malware, iOS is the way to go.
I hope you've found this break-down of iPad vs. Surface helpful as you make a decision about which device will work best for you.
What other sorts of "tech" questions do you have? Let me know and I'll answer them in a future post.
You may also be interested in: