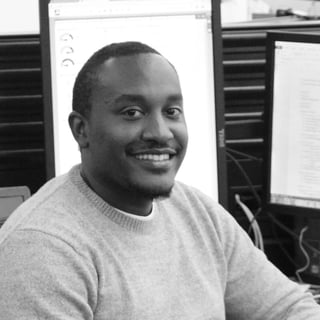 M'ten has always been interested in technology. "When I was a kid, I liked to break things down and figure out why they happened the way that they did. And, I was always a computer user, even when people didn't really use them."
After building his first website at just 13 years old, M'ten joined a band, toyed with science kits, and taught himself how to build computer systems from scratch – this is where his journey within the information technology industry began.
Over the years, I've been part of Tabush's evolution from break/fix support to full lifecycle management of business technology systems, including the decision to be at the forefront of cloud technology with our Boxtop cloud solution. Tabush has become synonymous with forward thinking and I strive to provide that in every project my team delivers.
M'TEN HALSEY
PROJECT TEAM LEAD / SENIOR ENGINEER
VMware Certified Professional & EMC Proven Professional
Started at Tabush Group in 2005

M'ten is now one of our longest serving employees, having started at Tabush Group as an intern back in 2005. He's since worked his way up through various positions. After graduating from college, he became a field technician, followed by desktop support tech, and then became a network and server tech. He's now our project team lead, managing a team of two others who work with him on every client project that Tabush undertakes.
Originally from Brooklyn, M'ten enjoys playing and teaching West African drumming during his free time. He's also a trained economist and, as a side project, he runs an economic speculation group. In
the summer, he enjoys spending time at the beach in New Jersey with his wife and two children.
---
Meet our entire team HERE.