Our core values are intrinsic to us: we believe in a team-centric environment, in which our coworkers value and share each other's unique talents and passions. We are founded on integrity, innovation, and most importantly, care for our employees and clients. Whether you are a network engineer, helpdesk technician, or business manager at heart, Tabush Group has a place for you.
On any given day, you might find us leading change in technology solutions while planning our next team event. At Tabush Group, we are committed to collaboration, employee wellness, and our community. We are built with a work-well, be-mindful mentality and exercise awareness of the world around us.
De-stress at Your Desk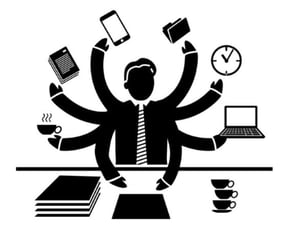 We introduced a De-stress at Your Desk workshop where employees experienced an introduction to mindfulness, meditation, and body awareness to counteract the effects of everyday stresses. We emerged from the workshop with foundational systems to build upon when confronting difficult situations and a newfound, breath-led method to practice stress reduction at work.
Teamwork in an Escape Room
Teamwork is key at Tabush Group. We strive to achieve greatness through valuing each other's distinctive skill sets, whether in the office or at one of our team-building events.
Amidst a day of interacting with a diverse portfolio of clients, we embarked on an outdoor escape room challenge. Sounds challenging, right? It was. We laughed until we cried, followed clues through an immersive experience, and relied on one another to guide us out into the heart of New York City.
Marshmallow Challenge
Another one of our core values is innovation: we continuously look to improve who we are, what we do, and how we do it. We are empowered to take risks, act, and grow.
We champion innovation in all situations, including those that require 20 sticks of spaghetti, one yard of both tape and string, and a marshmallow. We introduced Peter Skillman's Marshmallow Challenge to our employees, where we divided into teams of four and tried to build the tallest free-standing structure using only the materials listed. The purpose of the exercise was for each team to recognize collaboration in its various forms and, as Tom Wujec describes, discover that facilitation skills and specialized skills are the combination that leads to success.
As we attempted to beat the clock, the message became clear: only effective teamwork would build the tallest structure and innovation would keep it standing.
Summer Sushi Lunch
At Tabush Group, we exemplify care: we are dedicated and enthusiastic in all that we do and take time to celebrate our employees.
The team kicked off summer with a fresh sushi lunch, crafted for us live and in-house. As we watched his preparations in awe, the chef arranged an assortment of favorites, from stuffed avocado creations to California rolls. We paired our selections with sides of edamame and miniature salads, garnished with a dollop of ginger dressing.
Care is integral to our brand in its various aspects: we care to communicate openly and honestly; we take ownership and stand by our work. When we are not commemorating the start of summer, we are helping both businesses and colleagues succeed through our experience, passion, and integrity.
Why Tabush Group?
Whether we are formulating a plan to outsmart an escape room or collaborating to find IT solutions, we are operating to achieve the technological goals of our clients and the professional goals of our employees. We are not only a provider of cloud and managed IT services, but a resource to our staff, a champion of our team's skill sets, and a place for people to grow alongside one another.